NEARLY 30 BAMBOO AIRWAYS FLIGHTS WILL BRING KOREAN PASSENGERS TO FLC QUY NHON IN THE SECOND QUARTER OF 20
On February 24, 2022 at FLC Quy Nhon International Convention Center (Binh Dinh), FLC Group and Bamboo Airways signed a comprehensive cooperation agreement with TD&T Co.,LTD (Korea) with many important contents, including the provision of flc ecosystem's tourism, golf and aviation products to Korean tourists through this unit.
Specifically, Bamboo Airways and TD&T signed a comprehensive cooperation agreement in renting a trip to bring Korean tourists from Incheon to Quy Nhon to experience flc resort and golf ecosystem. At the same time, FLC Biscom Cruise and Golf Course Investment Company and FLC Hotels & Resorts Management Company also signed a commercial cooperation contract with TD&T to provide a package of golf services, high-end resort tourism of FLC ecosystem for Korean tourists.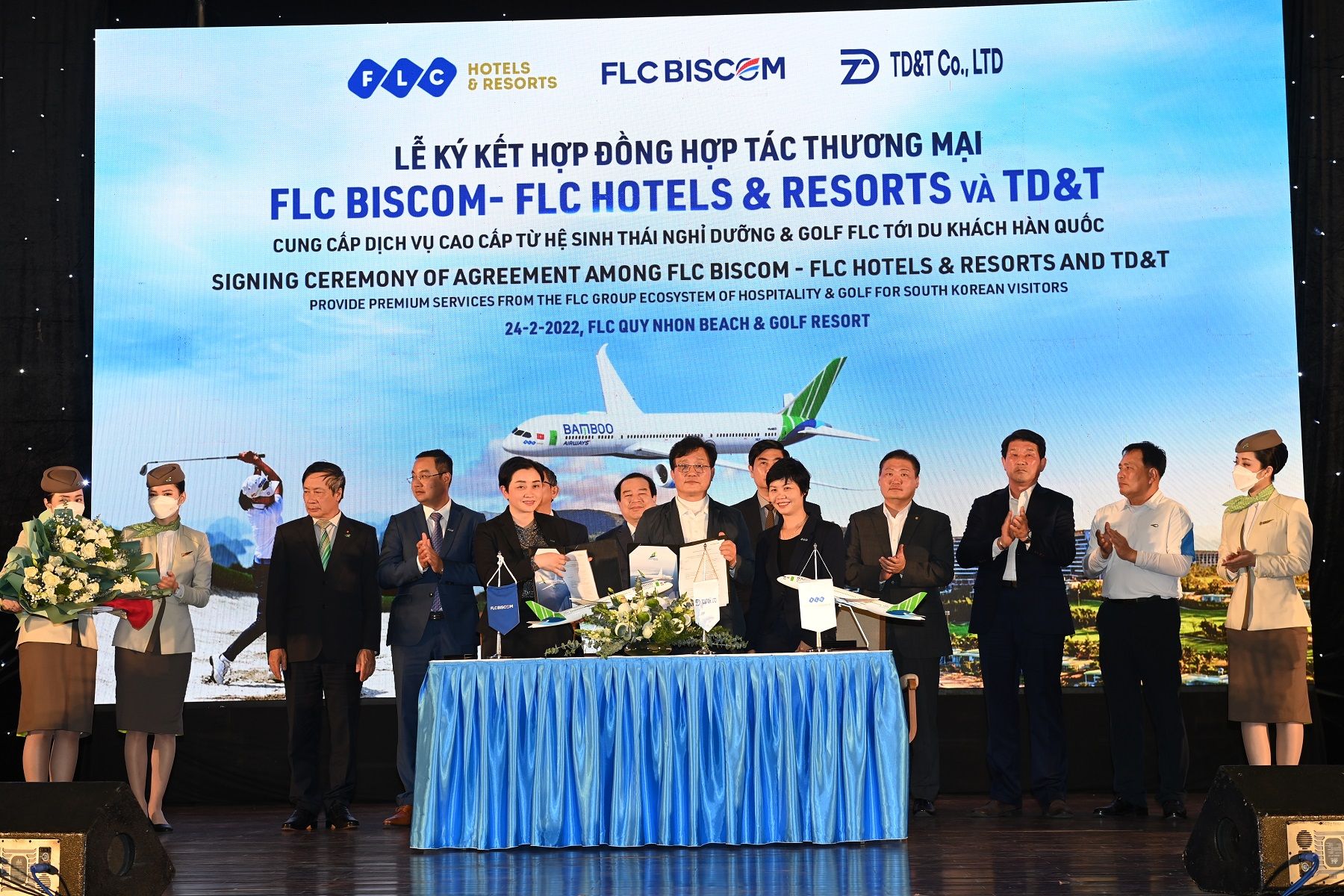 FLC Biscom and FLC Hotels & Resorts signed a commercial partnership agreement, providing packaged golf packages with TD&T.
Comprehensive cooperation
It is estimated that in the second quarter of this year, Bamboo Airways will deploy nearly 30 charter flights to bring Korean tourists to Quy Nhon. FLC ecosystem is also ready to provide tens of thousands of nights of rooms and hundreds of thousands of golf rounds for visitors from the Korean market in the coming period.
TD&T has nearly 20 years of operation in the field of management and operation of high-end golf members in Korea as well as many countries. As one of the big names helping to spread the influence of golf culture in Korea, TD&T owns a close customer file with thousands of senior members and a leading golf course link network around the world.
On the flc side, the enterprise has the advantage of owning a synchronous tourism ecosystem with 10,000 high-end hotel rooms, international standard golf course system in many provinces and cities and 5-star oriented airline Bamboo Airways.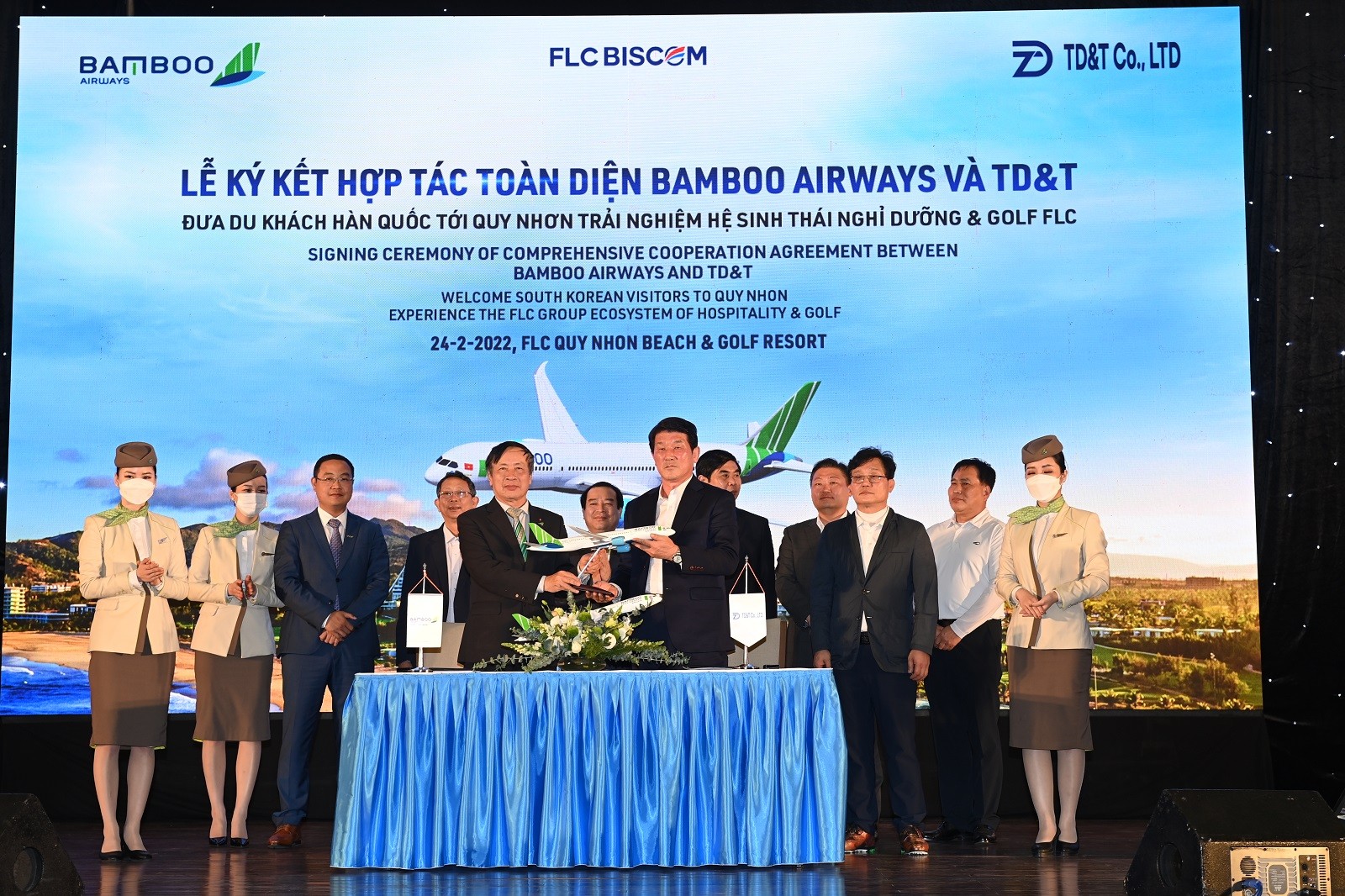 Bamboo Airways signed a comprehensive cooperation with TD&T in bringing visitors from Incheon to Quy Nhon.
The comprehensive signing between two prestigious names in the field of tourism of Vietnam and Korea will pave the way for tens of thousands of Korean tourists to experience golf, resort and aviation services... The 5-star quality provided by FLC, while increasing the access opportunities of Korean tourists to the outstanding destinations of Vietnam in the context of tourism is preparing to open from March 15.
The event also contributes to widely promoting the potential of golf tourism as well as attractive destinations of Vietnam to the international market, especially in kimchi country – a country that loves golf and is promising to become the largest tourism market of Vietnam in the future.
Previously, the country was the second largest key tourist market of Vietnam, and also the leading market for golf tourism in Vietnam.
Increased benefits
Appreciating FLC's vision as well as development strategy in building a synchronous tourism ecosystem, Mr. Kim Jae Gun, Director of TD&T hopes that the initial signing between the two partners will pave the way for extensive cooperation in the coming time, to promote cooperation not only in golf tourism but also in many diverse fields.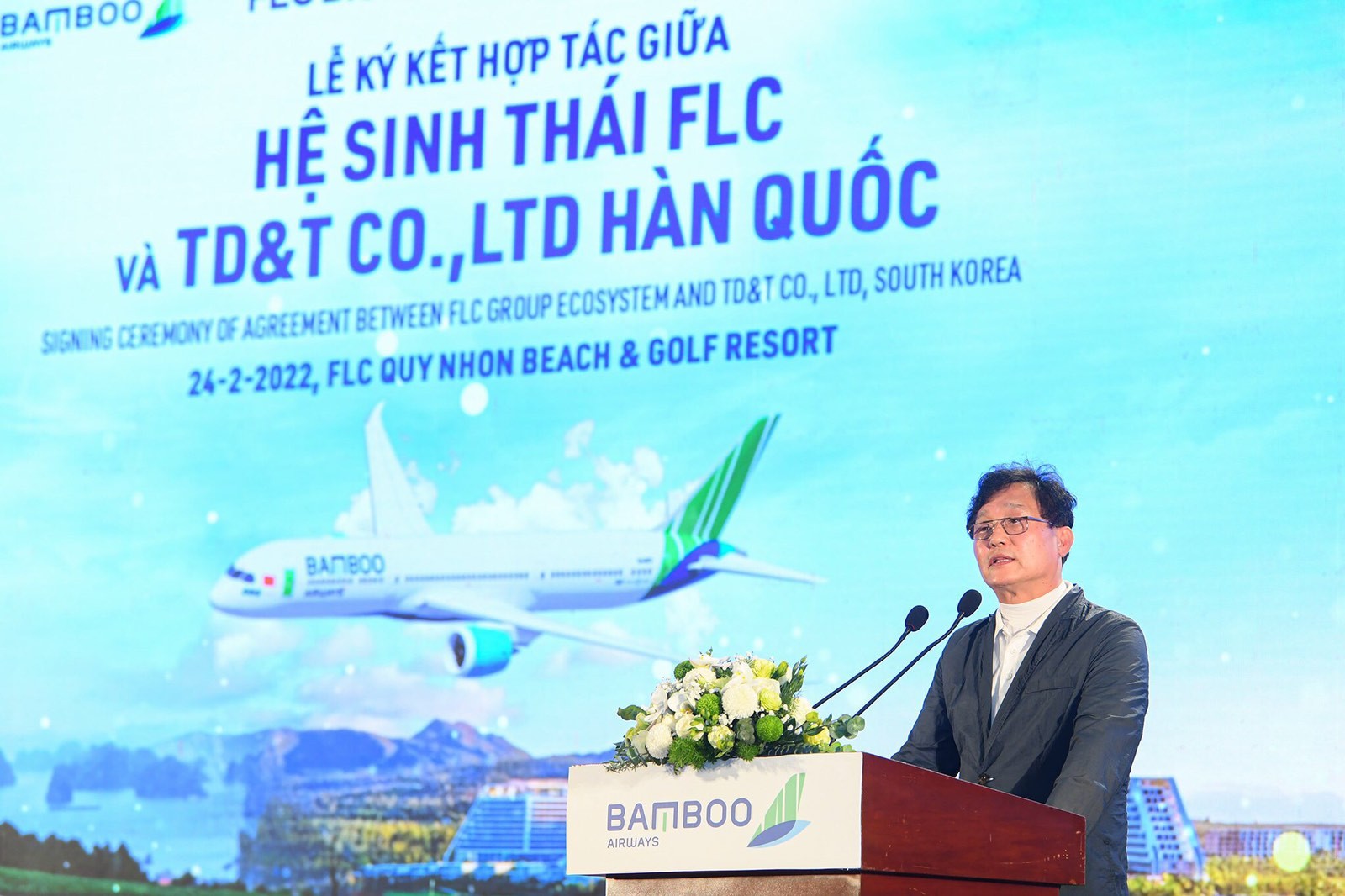 Kim Jae Gun, director of TD&T, spoke at the event.
"We hope that the two sides will carefully study each other's products and services to bring the most practical values, helping the relationship to be raised to a new level," Kim Jae Gun said.
Speaking at the event, Mr. Do Viet Hung, Deputy General Director of FLC Group, General Director of FLC Biscom said that before signing with TD&T, FLC complex system welcomed tens of thousands of golf visitors from Korea. This is one of the key international markets that FLC has been interested in promoting and connecting in recent years. However, TD&T is one of the first Korean partners that FLC has cooperated with immediately after the announcement of the opening of tourism from March 15.
Mr. Do Viet Hung, Deputy General Director of FLC and Ceo of Biscom spoke.
"The cooperation with TD&T continues to affirm FLC's commitment to preparing the conditions of human resources, infrastructure, diverse product systems as well as optimal processes to be able to accompany the destination in opening up international tourism in the most effective way" The hero said.